Main content starts here, tab to start navigating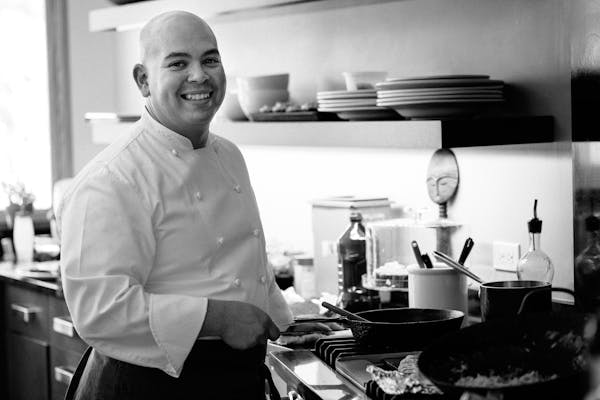 Executive Chef
Walter Abrams

When Walter Abrams was a year old, he and his brother moved from Hiahleah, Florida to Bogotá, Colombia with his grandparents. It was here that Walter began to respect food on a visceral level. In Colombia, food and cooking were continually integrated into the rhythms of life and from an early age, he felt a connection to food and the customs that surrounded it. When Walter was 10 years old, he and his brother moved back to Florida with their mother, this time to the West Palm Beach area. He continued to find solace in cooking. After school, while his mother was working, he would often create a meal for him and his brother.

When Walter was 14 years old he began working at the BBQ seafood eatery Dune Dog Drive-In in Jupiter, Florida. A year later, he joined the culinary team at PGA National Resort & Spa, a mammoth operation with multiple restaurants, a banquet department, pastry shop and butcher store. This classic kitchen brigade gave Walter a well-rounded culinary foundation as well as the impetus to enroll in culinary school. From 1998 to 2000, he attended the Florida Culinary Institute. And a few years later, he received the Alumni of the Year Award.


Upon graduating, Walter joined celebrated Florida chef Mark Militello to open the eponymous Mark's, an opulent Caribbean fusion restaurant. As chef de partie of a high volume restaurant, Walter learned how to work efficiently and swiftly. And as an ever-evolving student of his craft, he taught himself about Japanese cooking before learning how to make sushi from colleague and sushi chef Roy Villacrusis. For the next three years, he worked both the line and the sushi bar.

Looking for his next challenge, in 2003, Walter was hired as the opening junior sous chef under Zach Bell at Café Boulud at the Brazilian Court Hotel in Palm Beach. Prior to opening, he spent one month in New York, working at Daniel, Café Boulud, and DB Bistro to familiarize himself with the team and their style. Working for Daniel Boulud delivered on its promise of being an influential and illuminating experience.

But soon, the West Coast beckoned in the form of one of the country's most respected culinary establishments: The French Laundry. He mailed in his resume and the following day received a call with an offer for a chef de partie position at the Yountville restaurant. Without hesitation, Walter accepted and drove his belongings cross-country. He began at the fish station, ultimately making his way around the kitchen for the next three years until becoming sous chef, a role he held for another four and a half years. As sous, he worked alongside Thomas Keller and then Corey Lee.

Looking beyond the countryside and eager to immerse himself in an urban tempo, in 2011, Walter became the chef de cuisine at the Michelin starred Spruce restaurant in San Francisco. Here, Walter and the team dedicated themselves to elevating the restaurant to the next level by further refining the cooking and service styles. To this day, Walter maintains close ties with Bacchus Management Group. Their farm – Smip Ranch – will grow produce specifically for Dabba. After a year at Spruce, Walter moved to Philadelphia to help revamp the iconic Le Bec Fin.

A year later, Walter and his wife found themselves back in Napa where he began restaurant consulting. At this time, he also launched Apicius Nutrition, a company that makes raw, wholesome energy bars - what he calls, "a feel good project." It was at this time that he connected with Dabba CEO, Andy Mercy.

Dabba draws inspiration from the Mexican-Indian restaurant Avatar's, which has been a Marin County favorite for the past 30 years. Once joining the Dabba team, Walter spent eight months codifying Avatar's beloved recipes, elevating them with his own culinary point of view, and streamlining them for scalability. Walter was struck by how Avatar's' owners, Ashok Kumar and Kala Ubhi, gave the utmost respect to each ingredient and turned cooking into a meditative practice. This earnest soulfulness further ignited his passion for the project. With a pedigree in fine dining, Walter looks forward to applying his training and knowledge to the fast casual sector and creating community through flavorful, nourishing food.